the jouglards
August 20, 2016
Read
Donna's blog
June 06, 2016
"Faith comes from hearing..." Romans
10:17
We arrived in Impfondo on
Monday, February 15
and the tower work was completed that same week. The top section of the tower went up
on Tuesday
and the antenna went up
on Thursday
. Our first broadcast from the new tower was
Monday, February 22
, so for the first time we reached new communities and villages spreading the Gospel message to the people of the Republic of Congo (Brazzaville) and the Democratic Republic of Congo (Kinshasha). The tower crew of husband and wife team, Ed and Jean Muehlfelt organized, directed and constructed a new tower for us in Impfondo at Radio Sango Kitoko. This was their 1,000th tower built and their last tower construction, we are very thankful to God for sending them to Impfondo!
In March Donna was nominated as treasurer of Radio Sango Kitoko and both of us were appointed as part of the three person management team where we meet once per week with the station Director to manage the day-to-day operations of the station.


| | |
| --- | --- |
| | |
| | Tower dedication service with local pastors praying over the new antenna. |
Right now we are working with the radio station staff and Board to improve the station's programming. Programming is an area that many people in the community are concerned with and have asked for changes. This is also a challenge for a newbie to come in, and make changes to the programming that are relevant and culturally aware but that is my (Greg) task. Romans
10:17
says "Consequently faith comes from what is heard, and what is heard comes through the preached word of Christ." This verse translates into my life right now simply because God has given us this radio station to spread His Word across this region of the Congo. I am excited to be a part of this ministry and also recognize that the spiritual battles have and will be plentiful, but I stand firmly on the foundation of Jesus Christ. I have also been teaching a Bible study once per week at our morning chapel service for all staff of the Hospital. This has been really challenging but is also getting my French language skills ramped up quickly because the Bible study is all in French!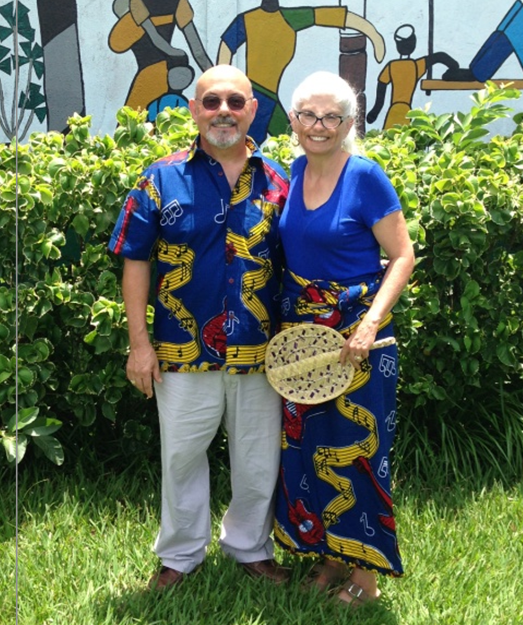 Since arriving in Impfondo, Greg and I have experienced many new things. Some new things are exciting while others are challenging. I (Donna) am feeling comfortable with the work at the hospital helping Melanie (Director of Finance) with bookkeeping and financial reports. Some of my other responsibilities include managing the inventory of all of the keys for all of the buildings located on the hospital grounds. I am also maintaining the inventory of bicycles that the hospital has for visiting missionaries. It is a lot to swallow at first but I believe the Lord will give me guidance to organize these tasks so that they can be managed more effectively. I split my time between the hospital and the radio station. I work at the hospital administrative offices

Monday

,

Wednesday

, and

Friday

while Tuesdays and Thursdays are spent at the radio station. Even with being named treasurer of the radio, I am still trying to find my place there. The hospital accounting functions are very familiar so I am able to plug into the work easily. However, being new to radio work has caused me to struggle with finding my rhythm. I am so grateful for Greg suggesting I spend some time at the KHCB studio learning some basic things before leaving Houston. My time with Krystal, Bonnie, and Bruce training me on the basics of radio at the KHCB studio has been very helpful here in Impfondo. Without that basic knowledge I would be totally lost now. Thank you KHCB for helping me gain the knowledge I need to do the work for Radio Sango Kitoko.

It is hard to believe we have been here in Impfondo for two months already. I look back and think that we have come a long way in those two short months. Greg and I thank God every day for our small victories. We still have the American mentality of wanting to get things done

tomorrow

but we are learning to appreciate the small victories daily and trusting in God's timing for results. When we trust in God each day, we will see results in His time.


We thank God for giving us this opportunity to expand His Kingdom through Radio Sango Kitoko. We thank you all for your prayers, encouragement, and financial support. God has blessed us immensely by allowing us to partner with you in the ministry of Radio Sango Kitoko and Pioneer Christian Hospital. May God continue to bless each of you and your families!!


Prayer Requests
Pray for peace in the Republic of Congo (Brazzaville)
Pray for new missionary doctors to serve at the hospital
Pray for God
'
s guidance as we make changes to the radio station
Praise God for all of our mission partners and Churches!